Whataboutery 01 'Regenerative Fashion: There can be no Other'
The game-changer? Empathy!
On Wednesday October 28th, State of Fashion organized her very first online event Whataboutery #1 'Regenerative Fashion: There can be no Other'. More than one hundred guests from all over the world joined the important and complex discussion about a decolonized future for fashion with anthropologist Sandra Niessen, Clare Farrell co-founder of Extinction Rebellion, Monica Boța-Moisin (Cultural Intellectual Property Rights Initiative) and associate professor of sociology Rolando Vázquez. This Whataboutery was the first out of four Whatabouteries, part of our online program 'This is an Intervention'.
Highlights Whataboutery #1 'Regenerative Fashion: There can be no Other'
In a 90-minute long conversation led by moderator Stephanie Afrifa a bridge was built between the intellectual framework of anthropologist Sandra Niessen 'Regenerative Fashion: There can be no Other' and the state of fashion in different parts of the world. In the interview Sandra explained how the disappearance of the traditional clothing and crafts in Indonesia touched her. She shared the story of Ompufino, a woman from North-Sumatra who passed away on October 3rd of this year. Ompufino was the last woman who kept the traditional craft of weaving alive in her village. This craft is important for the future of villages such as these, in which young women are increasingly drifting away from their own cultures. Their cultures, however, can provide important tools to co-build a truly sustainable fashion system.
'"The fashion sector has a big potential to change people's cultural ideas."- Clare Farrell

"We should not be afraid to go back to our own culture." – Monica Boța Moisin

'"Destroying the future is not the lack of innovation, destroying the future is when you destroy the possibility of the diversity of the world to carry on." – Rolando Vázquez

"The most game-changing word is empathy. If we truly had empathy for other systems of life, we wouldn't be doing the damage we're doing now." – Sandra Niessen
Virtual front row
Within the new valuedriven network Culture.Fashion, connections are being made between different Dutch fashion organisations. For this very first online edition of the Whataboutery, State of Fashion joined forces with FASHIONCLASH, Mafb/OSCAM and M-ODE. Together they invited designers Amber Jae Slooten (The Fabricant), Giorgio Toppin (XHOSA) and performance artist Princess Isatu Hassan Bangura, to take a seat on the virtual front row and join the conversation. Giorgio Toppin from XHOSA asked the question: How do companies with a lack of ethnic diversity connect to indigenous and other cultures without data mining their craft and discarding them when the resources and techniques are depleted?

Register now!
The next Whataboutery is scheduled on Tuesday December 8th and will be all about 'Origins'. You can now already register for this Whataboutery by sending an e-mail to events@stateoffashion.org including your name and mentioning 'Whataboutery' in the subject. Keep an eye on our channels for more information about the coming intervention: 'Origins'.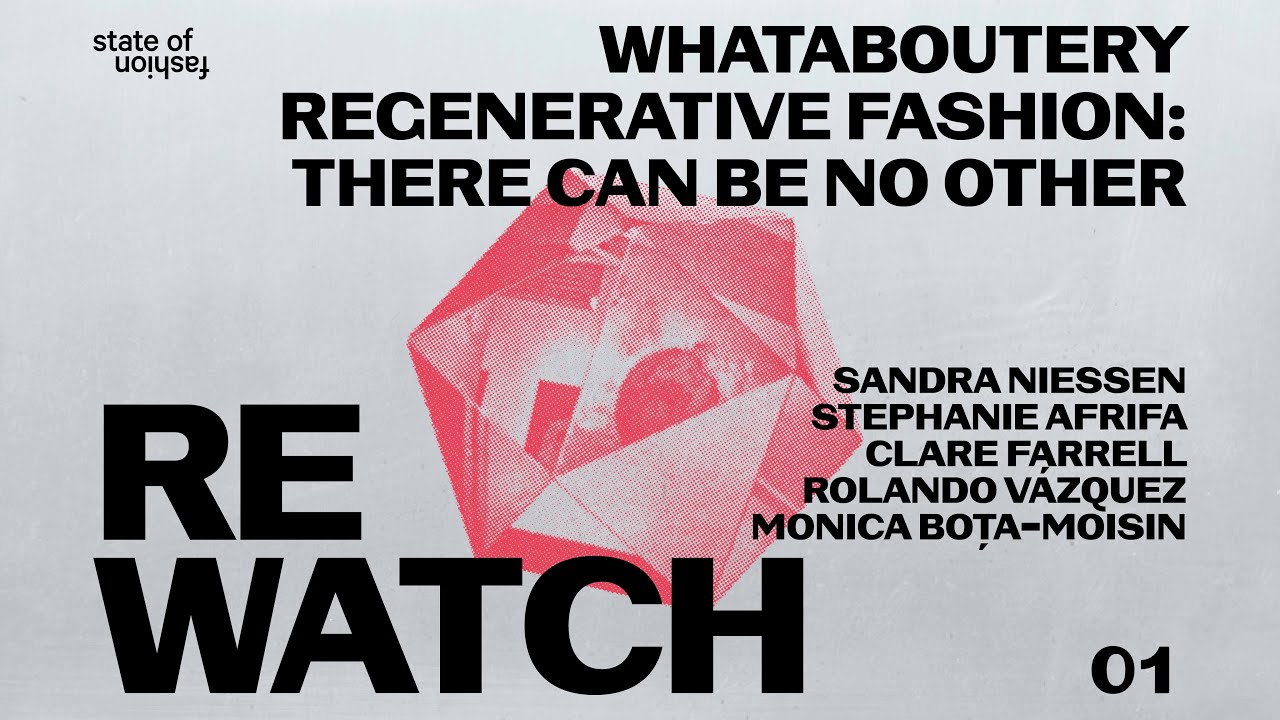 None
Whataboutery 01 'Regenerative Fashion: There can be no Other'